The center of Lourdes was just a short walk away, so I left my bike near my tent. The first church I spotted was the Sacré Cœur, that had been built about a century ago. The original church had been to small for all religious guests. But this church is not part of the Sanctuary. That is hidden from the center by the fortress of Lourdes.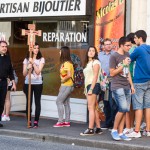 In the (ugly) tourist office I got a map with all important locations. I went into the direction of the Sanctuary leaving the fortress left of me. The way was stuffed with religious tourist shops, that offered plastic Maria's to be filled with water from the cave.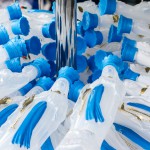 After the Pont St Michel, at the beginning of the Sanctuary there was a sign: no ice cream, no use of cell phones etc. And no commercial activities apart from selling candles. There are for layers of churches here. The Basilique Souteraine, a huge under-earth concrete building is the first and then three churches within the Basilique.
After seeing the Basilique churches, I first walked the Chemin the Croix, with large bronze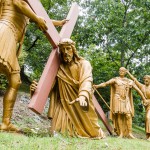 coloured statues building the scene for each stage. After passing a closed cave at the end I went down to the river bank near the Basilique.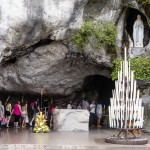 People were queueing for La Grotte, or precisely Grotte de Massabielle. The candleman was cleaning up rests of wax under the Mary statue. And the rocks in the Grotte were smooth, due to the thousands of hands that touched them. Just before La Grotte, one can tap water from the source, it tasted well.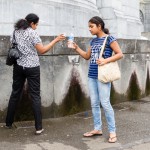 After La Grotte people were waiting to be bathed in the source water:one entrance for men, one for women, one for ill people and one for children.
This part could have been described by Thomas Mann (Zauberberg): disabled and ill persons were transported in historic wheeled equipment, about one century old. maybe that belongs to Lourdes, but I would expect some more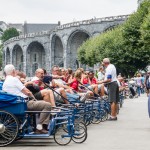 current material today.
After the bathes there was a candle burning site. Huge candles put in iron chambers were producing smoke, heat here. On many of them stocked a paper, mentioning the reason, why the candle had been lit.
I returned to the center to have my lunch near les halles.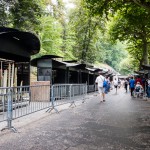 Then I looked at some locations from poor Bernadette`s life. The mill, she lived in is still there, but no water to drive the mill and hidden under newer buildings.
Another negative point of Lourdes is the traffic in the historic kernel. It is so small, that they could assign this area to pedestrians only.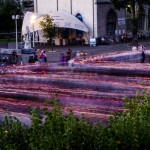 Every evening at 9 pm the candle lighted procession with Mary starts. I think, about a thousand persons were there.  It was rather impressive to see.