Avignon was residence of some Popes. This can be recognized in the geographical names like Île-des-Papes, Chateauneuf-du-Pape etc.  There are also a lot of buildings that emphasizes these historical facts.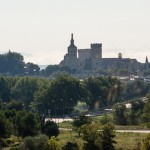 The start of the cycle path in Avignon cannot be found without a map. It is a small street in the quarter Les Angles.
Near Aramon the route crosses the Rhône. In Vallabregues I bought food and liquids for the weekend. In the twin towns Tarascon and Beaucaire again The Rhône has to be crossed. After the cement factory the cycle path EV8 is routed via a cul-du-sac, so I had to turn and use the main road (dear OSM community: it makes no sense to show the future plans, at least not as a normal route). In Bellegarde a Monsieur told me, I was using a street in the wrong direction. That was right, but the EV8 is on that street, so French authorities: please allow bidirectional cycling through the center.
In Saint Gilles I had lunch with a nice view to the south near the Mairie.
Behind the church I saw some remainders of an older church.
The next part leads through the Camargue area and the road has to be shared with car traffic.
After Aigues-Mortes the V60b is on the dyke of the Canal du Rhône à Sète, but this cycle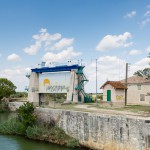 path is not ready as well. I mastered the muddy way until it crossed the D61. Then I gave up and took that road to La-Grande-Motte. Now I used the EV8 that is very crowded with pedestrians from and to the beach.
in Palavas it was not easy to find the cycle path, because it is not signed out and at unexpected points you have to use the primary car road.
The weather was sunny and temperatures high.
Distance today: 139 km