On the camping one of the workers said, I should not use the water from the tap to fill my bottles. I should ask for drinking water at the receptionist, so I did. The evening before I already thought my tea is a bit salty, probably the source contains some seawater.
The cycle path is parallel to the coast line. There are a lot of cyclists going to the beaches.
Sète is a nice town, at least the eastern part with the harbour. In the west there are a lot of modern hotel buildings.
In Agde I first passed the big supermarkets. They are open on Sunday morning and I take the opportunity,  to buy some bottles of water and juice. The old center is near the bridge over the Herault. After a short distance over a busy road, I can use narrow more quit roads. Some 8 km later the EV8 is on the border of the Canal du Midi and is good to use until Béziers, where the canal bridges the river l`Orb. The cycle path disappears and you have to find the way yourself.
I used the path along the 9 locks. This is continued as a small track near the Canal. Near Combecal I leave the track and use a small road at the south.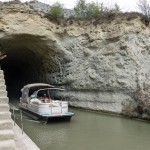 Near Maison du Malpas there are three attractions: the Canal flows through a tunnel, the Oppidum d`Ensérune (with pots carved in the rocks) and a view to the Étang-de-Montady.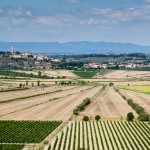 I keep using the tertiary roads south of the Canal until Truilhas. Near Athens I decide to leave the Canal and head for a camping 6 km to the south.
Distance today: 129 km